Senior Home Care – Your Dad Has Glaucoma, Now What?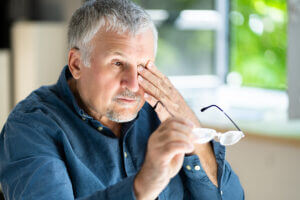 Almost three million people in the U.S. have glaucoma. It's more common than you might imagine. In many cases, you can slow the progression and protect your vision.
Your dad was just diagnosed with glaucoma. You're not sure what to do next or what questions to ask. What should you be doing to help him?
Ask What Kind of Glaucoma He Has
Talk to his doctor. Find out what type of glaucoma he has. There are several, but open-angle and angle-closure are the two most common.
Open-angle: The eye's drainage canal becomes clogged and puts pressure on the optic nerve. It builds slowly and is often treated with eye drops and blood pressure management. Laser treatments to improve drainage are also recommended.
Angle-closure: The area near the iris and cornea closes and prevents fluid from leaving the eye creating too much pressure on the optic nerve. This is often an emergency situation that requires surgery to treat.
If he is going to undergo surgery, your dad will need someone to drive him to and from the clinic or hospital. If you can't get time off work, make sure someone is there. He cannot drive and needs to take it easy for a day or two.
Senior home care can help your dad with housework, meals, transportation, and personal care until he's able to get back to his routines. With some surgeries, this might take a week or two.
See if He Needs to Change His Diet
Often, dietary changes are recommended. Your dad needs to stop eating fatty foods and focus on a healthy diet with seafood, vegetables, whole grains, and dairy items. If he's known to love having a burger, fries, and beer, that needs to change.
He won't have to give up his favorite foods, but he does need to find healthier options. Instead of fried potatoes, he could use an air fryer and minimal oil. A turkey, vegetarian, or salmon burger is a better choice.
Find Out What Medications He'll Use
Your dad is likely going to be prescribed medications. Eye drops are common and require him to follow clear instructions. He puts the drops in his eyes. He needs to stand or sit there with his eyes closed for a few minutes and then gently dab away any tears.
He may need to take beta blockers. These pills help with blood pressure and may sap his energy. If he is dealing with less energy, make sure someone can help him with daily routines like dishes, housekeeping, and errands.
Support Your Dad as Much as You Can
Glaucoma doesn't have to rob your dad of his eyesight. But, he needs to carefully follow his doctor's treatment plan. If your dad is unlikely to remember to schedule routine appointments or use his medications correctly, arrange senior home care.
Senior home care aides can drive your dad to his appointments, remind him to put in his eye drops or take other medications, and ensure he schedules follow-up exams when recommended. Learn more by making a call.
If you or someone you know needs senior home care in Mobile, AL, please contact the friendly caregivers at  Hughes Home Care. We provide quality and affordable care for your elderly loved ones in our community. Call Us Today at 251-517-9901.  Serving Mobile & Baldwin County.
Latest posts by James Hughes
(see all)