In-Home Care and Heat Safety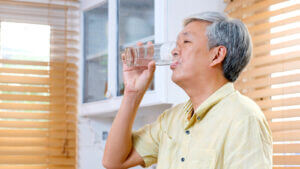 Across the U.S., so many states are experiencing unusually hot weather. If you look at maps of the temperatures in July, Washington, Oregon, and Alaska are the only three states showing temperatures as being average or below average. It's hot, and your dad needs to make sure he's taking care of himself to avoid heat exhaustion.
Drink Plenty of Water
Make sure your dad remains hydrated. If he's not limited on how much he can drink due to kidney or heart disease, he should aim for a small glass of water each hour or two. If he's sweating or exerting more, he'll drink more. If he slows down, his water intake can also slow down.
Does your dad dislike water? Instead of water, have him eat celery, grape tomatoes, melon cubes, grapes, berries, and other foods high in water content.
Stay Inside
When it's very hot, your dad needs to stay inside. If he absolutely needs to be outside, he should go outside in the early morning or later at night. Plus, he needs to limit how much time he spends outside. A few minutes to pick vegetables in his garden is okay. An hour outside is probably too much.
Keep Cooler
Keeping your core body temperature down is important when it's hot. If your dad feels hot and doesn't have AC, a damp T-shirt will keep his body cool. When it's fully dry, wet it down again to repeat the process. It helps keep his skin cooler, which helps keep his blood cooler.
Know the Signs of Heat Exhaustion
Be aware of the signs of heat exhaustion. Headache, muscle cramps, thirst, and excessive sweat are all issues. If your dad feels weak, tired, or drained, he needs to tell someone. Sitting in a cool area, taking a cool (not cold) shower, and sitting in front of a fan while drinking water or milk.
Heat stroke is worse. At this point, his heart rate increases, his body temperature climbs, and he could end up in the hospital. He needs to avoid reaching either of these. He needs to make sure he stays cool and inside when it's hot. If he doesn't have AC or his AC stops working, a damp t-shirt, fan, and move to the shade or another home or cooling center is important.
Go Elsewhere if Necessary
If your dad's home is too hot, he needs to leave. It's okay for him to go to a cooling center or a friend or family member's home where there is AC. He doesn't have to be too proud to ask for help getting and staying cool.
It may be time for your dad to have help during the week. Arrange in-home care aides to have them help him with housekeeping, meals, and more. He'll also have a caregiver with him to ensure he takes breaks and avoids overheating. An in-home care specialist is ready to answer your questions and go over pricing.
If you or someone you know needs in-home care in Mobile, AL, please contact the friendly caregivers at  Hughes Home Care. We provide quality and affordable care for your elderly loved ones in our community. Call Us Today at 251-517-9901.  Serving Mobile & Baldwin County.
Latest posts by James Hughes
(see all)