Home Care – Superfoods Seniors Can Grow At Home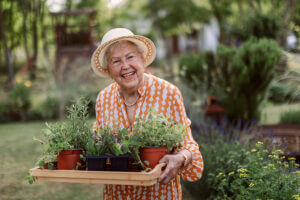 One way that seniors can supercharge their diet to make it healthier is to add more superfoods to it. A superfood is a food that doesn't have a lot of calories but does have a lot of the vitamins and minerals that seniors need. Superfoods have a lot of benefits for seniors like:
Improving heart health.
Boosting the strong immune system.
Lowering the risk of some cancers.
Reducing inflammation.
Lowering cholesterol.
Superfoods are also very versatile and can be prepared in many different ways. Seniors who need a little help cooking interesting meals can get help from home care. With home care seniors will have the support they need to eat healthy meals every day. Home care can also help seniors grow these superfoods at home:
Dark Leafy Greens
Dark leafy greens are very nutritious greens that can be used in salads, smoothies, or as a side dish by themselves. Some popular dark leafy greens are chard, kale, spinach, and collard greens. These greens contain a lot of potent minerals and vitamins like folate, zinc, and magnesium.
Berries
Berries of all kinds are easy to grow in a variety of conditions. Your senior parent may even have some wild berries already growing on their property. Berries can be eaten plain as a snack or put into yogurt or smoothies. They are also a refreshing spring and summer dessert. Strawberries and blueberries are the most popular berries.
Sunchokes
Have you heard of a sunchoke? Many people haven't. But sunchokes are a fantastic food for seniors. They are packed with nutrients and they may even help lower blood sugar. They look and taste like potatoes, but they have far fewer carbs than potatoes. They can be prepared just like potatoes and used as a delicious side dish. They are the perfect substitute to use to make healthier mashed potatoes during the holidays or for family dinners.
Chives
Chives are a lot more than just a great herb to add to your favorite dishes. Chives contain nanoparticles, which some studies show can lower inflammation that is linked to heart disease. Add some chives to salads, steaks, potatoes, and other foods to lower the risk of developing heart disease and to give food a great flavor.
Avocados
Avocados won't grow in all climates, but seniors who live in climates that are friendly to avocados should grow them. Avocados are delicious. They are also a fantastic source of healthy fat. Is there really healthy fat? Yes. The body needs healthy fat for fuel and to keep the brain healthy. Avocados are creamy and delicious. Use avocados to make a delicious dip or dressing for tacos and burritos or as a dip for vegetables or crackers. Avocado can also be added to smoothies to add some healthy fat and a great creamy texture.
Superfoods should be part of everyone's diet, but it's especially important for seniors to stack their meals with superfood to protect their health and lower the risk of developing serious illnesses and diseases.
If you or someone you know needs home care in Mobile, AL, please contact the friendly caregivers at  Hughes Home Care. We provide quality and affordable care for your elderly loved ones in our community. Call Us Today at 251-517-9901.  Serving Mobile & Baldwin County.
Source 1 / Source 2 / Source 3 / Source 4
Latest posts by James Hughes
(see all)