Five Factors to Consider When Researching Home Care Assistance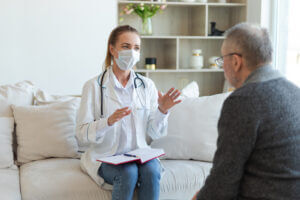 Selecting the right home care assistance for a senior family member is a significant decision that requires careful consideration. It involves assessing current and future needs, considering the feelings of the senior receiving care, involving them in decision-making, and evaluating the potential need for home modifications.
Assess Current Needs
Before making decisions about home care, it is crucial to evaluate the current needs of the senior. Consider the level of assistance required for activities of daily living such as personal care, medication management, and mobility support. Take note of any specific medical conditions or specialized care needs. This assessment will help determine the level of care and expertise required from senior care providers, ensuring that the selected assistance aligns with the senior's immediate needs.
Try to Consider Future Needs
While focusing on current needs is important, it is equally vital to anticipate future needs when researching home care assistance. Aging is a dynamic process, and care requirements may evolve over time. Consider any progressive conditions, potential changes in mobility or cognitive function, and the need for additional support as the senior's needs change.
Consider the Senior's Feelings
When exploring home care assistance options, it is crucial to consider the feelings and preferences of the senior receiving care. Respect their personal autonomy and involve them in conversations about their care. Discuss their concerns, desires, and any specific requests they may have regarding the type and level of assistance they require. By considering their feelings and involving them in the talks you're having, it empowers seniors to maintain a sense of control and actively participate in shaping their care plan now and in the future.
Keep the Senior Involved in Making Decisions
It is important to actively involve the senior in making decisions related to home care assistance. Engage in open and honest communication, providing them with information about the available options and the benefits they offer. Encourage them to ask questions and express their preferences. By actively involving the senior, you ensure that their voice is heard, their values are respected, and their unique needs are considered. This collaborative approach fosters a sense of empowerment and builds trust between the senior, family members, and everyone else involved.
Look at Whether Home Modifications Might Be Necessary
When researching home care assistance, consider whether any home modifications may be necessary to ensure the senior's safety and comfort. Evaluate the home environment to identify potential hazards or barriers to independent living. This may include installing grab bars, improving lighting, or rearranging furniture for better accessibility. Assessing and addressing home modifications alongside home care assistance can create a supportive and helpful living environment that promotes the senior's well-being and independence.
Selecting the right home care assistance involves careful consideration of several factors. What matters most is that the person receiving care has the help that they need both now and in the future. Home care assistance is incredibly flexible, allowing aging adults to have the help that they need and to modify that support whenever necessary.
If you or someone you know needs home care assistance in Fairhope, AL, please contact the friendly caregivers at  Hughes Home Care. We provide quality and affordable care for your elderly loved ones in our community. Call Us Today at 251-517-9901.  Serving Mobile & Baldwin County.
Latest posts by James Hughes
(see all)